Remember the Springsteen hit "57 Channels (and Nothin' On)"? Or does having only 57 channels sound like some time out of antiquity? (For some of us it really was a long time ago—that song was released in 1992.) These days, cable subscribers have a lot more channels than that, but how many do you really make use of? Probably a very small proportion. So if you are looking for the best deal on cable, and spending time scouring the Web for a Verizon internet promotion code to make sure you get the best deal, Verizon's new program should be very interesting to you.
Cutting Down on Unwatched Channels With Custom TV
It seems the pendulum has swung back, and cable customers have made it clear that they don't want more channels, they just want to have access to the ones they actually watch. Verizon's Custom TV is the service provider's response to that demand—now you can choose what they call "Channel Packs" which include groups of similar stations, such as sports, news and kids.
There are also quite a few shopping and religious channels in the base Channel Pack, but I must admit, I found it surprising that there are some fairly specialized channels in there too, including Mnet (Asian pop culture), RLTV (aimed at the over-50 crowd) and RFD TV (focusing on rural communities) just to name a few.

Everyone who signs on for Custom TV gets the base channels, then can choose two Channel Packs included with the base price. The current packs are Lifestyle, Entertainment, Kids, Pop Culture, News & Info, Sports and Sports Plus.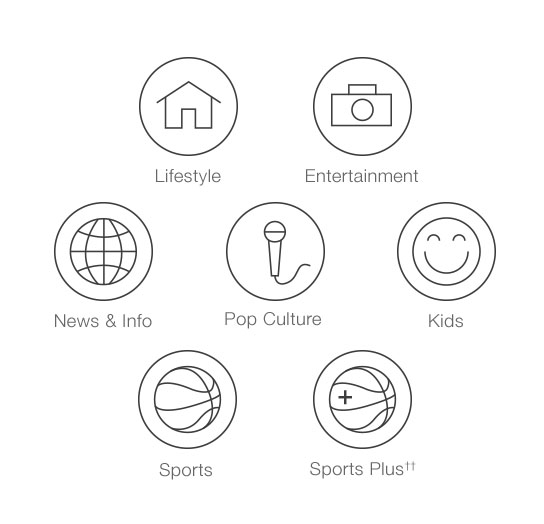 Custom TV Bundle
The bundle offer includes FiOS Custom TV, Internet and phone service. The current price is guaranteed for two years and customers are not required to sign a contract, so it's a good idea to go ahead and sign up while the offer is available, since you never know when they will start requiring a contract.
However, if you don't mind committing to the service for two years, there's a really generous bonus available. As of writing, Verizon is offering a $350 VISA gift card, plus all the premium movie channels are included in the base price for the first year. That means you'll get HBO, Showtime, Epix, Cinemax, Starz and Encore free for a whole year. If you are paying for premium movie channels now, then that would save you almost $600 (at Verizon's regular rate of $49.99 per month).

Before you'll receive the gift card, you are required to have the service for 60 days without having any past-due balances, but if you meet the conditions, they agree to send it within 90 days of the install date, so it should arrive during your third month of service, assuming you keep the bill paid up.
Expanding the Basic Package
So what happens if you need to have both sports packs, but your kids think they need some TV time too? Additional channel packs can be added for $10 per month for each one. There are no substitutions allowed within the Channel Packs; each one comes as a set, so if you want to have SyFy and Comedy Central, then you'd need the Entertainment and Pop Culture packs.
Verizon's flat rate only covers the base charges. Additional charges my include installation, taxes, router, and other approved fees. So if you are on a strict budget, be sure to find out about all charges and what your monthly total will be before committing. The gift card and premium channels are very tempting—that's why they are the lure to get a commitment out of you—but if the bill could become an issue, you can still get the new program and take advantage of the great introductory rates on a month-to-month basis.
I looked around online to find you the best deal, and it turns out that you don't need a Verizon internet promotion code to get the deal. Just click here for more details on how to sign up and you'll get the best deal on the FiOS Custom TV package.