Hotels.com coupons and Hotels.com coupon codes have started showing up all over the internet since the beginning of the company's existence. With dirt-cheap rates to hotel rooms, amazing promotional coupons, as well as a spot-on domain name, Hotels.com was able to get the attention of many customers looking for accommodation when they travel. This page will continually be updated with the latest Hotels.com coupon and coupon codes so check back as soon as you figure out your destination for some great hotel deals.
Hotels.com Coupon Code Details
Take $20 – $100 Off Hotel Bookings with Promo Code REBATES22 – Book by 12/31, Travel by 3/31/2024

Get $20 with a 3 Night and $130+ Booking
Get $30 with a 5 Night and $200+ Booking
Get $50 with a 8 Night and $325+ Booking
Get $75 with an 10 Night and $500+ Booking
Get $100 with a 12 Night and $650+ Booking
The Hotels.com coupon code must be used at checkout. Then, you must print and mail the coupon to Hotels.com at Hotels.com Rebate Processing Department, 5000 West Kearney St., Springfield, MO 65803.
More Hotels.com Coupons
Hotels.com Coupons for Some Very Popular Destinations
Last Minute Hotels.com Coupon Code
Weekly Hotels.com Coupons
Where to Apply for a Hotels.com Coupon Code
In order to take advantage of the coupon codes that are sometimes available, you have to find the place where you enter the code right? The coupon code box is available after you find the hotel and click on "Book Now" after you've selected the dates and everything. It's part of the checkout screen and the code box on the right, below the booking summary on the right as of writing (also shown below).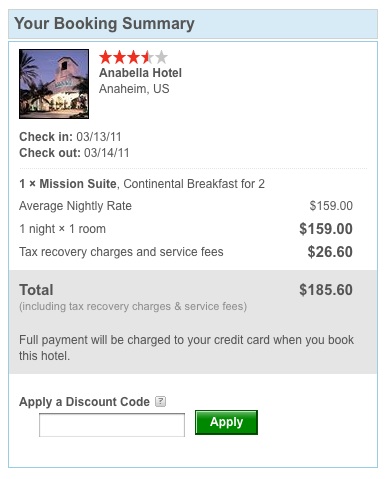 As to the normal promotions, all you have to do is click on the link to the coupon and you are all set. There's no need to locate any boxes or enter any codes 🙂
Recently Expired Hotels.com Coupons
Check out the Hotels.com coupons that were available before and see if you can figure out when they will reissue a deal for the destination that you are thinking about.
Save 12% Off Select Hotels with Stays of 3+ Nights (Min. $300+). Use Promo Code MEMSAVE12 – Book by 5/29, Travel between 5/25 – 5/30
Save Up to 40% on Hotel Stays + Get an Extra 10% with Coupon Code SAVE10FEB16 – Book by 2/7/16, Travel by 3/13/16
Save Up to 30% on Hotel Stays This Winter + Get an Extra 8% with Coupon Code SAVE8JAN16 – Book by 1/10/16, Travel by 2/14/16
Get $40 Off Select Hotels $275+ with Promo Code FLASH2016 – Book by 1/5, Travel by 2/14
Take $5 Off on Select Hotels $50+ with Coupon Code 5Off50US – Expire 12/31/2015
Hotel Deals Up to Half Off. Plus Get an Extra 8% Off with Promo Code AFSAVE8HOTELS – Book by 6/7, Travel by 7/12
Celebrate Cinco de Mayo Take an Extra 12% Off Select Hotels with Coupon Code EMCINCO – Book by 5/5, Travel by 8/5
Take 7.5% Off Select Hotels with Coupon Code AFSPRING75OFF – Book by 4/19, Travel by 5/24
New Customers Save Up to 30% Off Select Hotels Plus an Extra 8% Off with Coupon Code AFMARSAVE10 or AFMARSAVE8 – Book by 3/29, Travel by 5/3
Take 5% Off on Select Hotels with Coupon Code AF5OFFEXCLU for Travels Until 4/26 – Expire 3/22/2015
Save Up to 30% Off Select Hotels Plus an Extra 10% Off on Select Hotels with Coupon Code CPTGIF – Book by 3/20/15
Take 5% Off on Select Hotels with Coupon Code AFDEAL5MAR15 – Expire 3/15/2015
Get 5% Off Booking with Promo Code AFFEB5OFF – Book by 3/1, Travel by 4/5
Existing Customers Save 10% on Select Hotels with Coupon Code AFSAVE10FEB – Book by 2/19/2015
Save 8% Off Select Hotels. Use Coupon Code AFSAVE5FEB15 – Book by 2/8/2015
Save 10% Off Select Hotels. Use Coupon Code AF10OFFHOTELS5 – Book by 2/1/2015
Save 5% Off Select Hotels. Use Coupon Code AF5OFFJAN15 – Expire 1/25/2015
Save 10% Off Hotels with Coupon Code AFNEWYEAR10 (Travel by 2/8/2015) – Ends 1/4/2015
Another 10% Off Coupon. Enter Code: COUPONSHOEBOX10