Home Depot coupons are actually easier to find than you might imagine. The home improvement giant will regularly send out discounts, promotions, and deals to us and I've listed them conveniently for you here. If you came to look for Home Depot coupons or Home Depot coupon codes, you have absolutely come to the right place. Sometimes, they give a flat-out site-wide coupon code but other times, it's deals for rugs, stoves, paint, wood, microwaves, you name it. You can always wait, but otherwise, check out all the coupons now.
Home Depot Coupons Details
Must See Home Depot Coupons
A Note About the Home Depot Coupon Codes
Lately, Home Depot has started issuing more and more coupon codes for customers to use. This is a change from the old days where the deals are usually just coupons that doesn't require a code to be entered. I guess it must mean that customers like us are responding to these deals that make us enter some type of code.
Entering a coupon code is easy at HomeDepot.com because it's right at the checkout screen.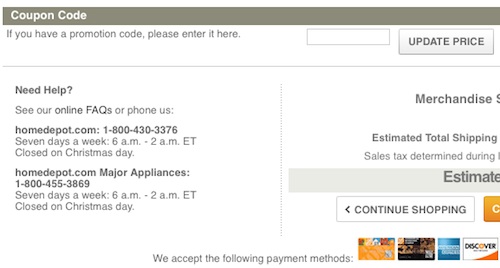 Once you have something in your cart and you are ready to buy, go to the checkout screen and you will see a section called "Coupon Code" right above the checkout button similar to the one shown at the picture above. All you have to do is go there, type in your promo code and then click the button that says "Update Price". If the promo code applies to the items you have in your cart, the pricing should update immediately.
Oh and if you are just trying to find the coupon code box without actually buying something, make sure you have something in your shopping cart first because without it, you will only get a screen that says your cart is empty.
Expired Home Depot Coupons
I believe it's important to see what kind of deals were available to predict what could come back and what the best deals are for an item, so check out the expired list here and see if there are anything you would like and figure out for yourself whether you would want to wait for the next promotions for what you need.
Take $5 Off $50 or More with Promo Code HDHOLIDAY – Expire 12/3/2015
Take $5 Off $50 or More with Promo Code RWBEVENTHD – Expire 7/5/2015
Save 25% Off Select Pfister Kitchen Faucets with Promo Code PFISTER14 – Expire 7/2/2014
Take $5 Off $50 or More with Coupon Code MEMHD – Expire 5/26/2014
Take $10 Off $100 or More with Promo Code: SPRINGHD – Expire 4/27/2014
Take $5 Off $50+ with Coupon Code MARCHHD – Expire 3/9/2014
Take $10 Off $100 or More. Use Promo Code FEBHD – Expire 2/16/2014
Take $10 Off $100 or More. Use Promo Code NEWYEAR10 – Expire 1/5/2014
Take $5 Off $50 or More with Coupon Code: HDHOLIDAY – Expire 12/4/2013
Or Take $10 Off $100 or More with Promotion Code: HOLIDAYTEN – Expire 12/4/2013
Save an Additional 10% on Lighting. Use Coupon Code HDLIGHT10 – Expire 10/25/2013
Save 15% on Small Appliances. Use Promo Code SAVE15 – Expire 9/5/2013
Take $10 Off $100 or More. Use Coupon Code: JUNEHD – Expire 6/23/2013