Hotels.com coupons and Hotels.com coupon codes started showing up all over the internet since the beginning of the company's existence. With dirt cheap rates to hotel rooms, amazing promotional coupons as well as a spot-on domain name, Hotels.com was able to get the attention of many customers looking for accommodation when they travel. This page will continually be updated with the latest Hotels.com coupon and coupon codes so check back as soon as you figure out your destination for some great hotel deals.
Hotels.com Coupon Code Details
Get $20 with a 3 Night Booking
Get $30 with a 5 Night Booking
Get $50 with a 8 Night Booking
Get $75 with an 10 Night Booking
Get $100 with a 12 Night Booking
The Hotels.com Coupon Code: REBATES14 must be used at checkout. Then, you must print and mail the coupon to Hotels.com at Rebate Department, 10190 Covington Cross Dr., Las Vegas, NV 89144.
More Hotels.com Coupons
Hotels.com Coupons for Some Very Popular Destinations
Last Minute Hotels.com Coupon Code
Weekly Hotels.com Coupons
Where to Apply for a Hotels.com Coupon Code
In order to take advantage of the coupon codes that are sometimes available, you have to find the place where you enter the code right? The coupon code box is available after you find the hotel and click on "Book Now" after you've selected the dates and everything. It's part of the checkout screen and the code box on the right, below the booking summary on the right as of writing (also shown below).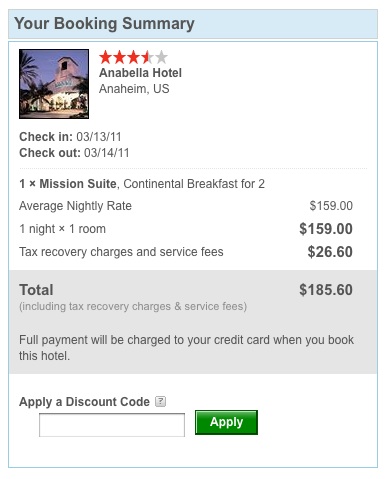 As to the normal promotions, all you have to do is click on the link to the coupon and you are all set. There's no need to locate any boxes or enter any codes

Recently Expired Hotels.com Coupons
Check out the Hotels.com coupons that were available before and see if you can figure out when they will reissue a deal for the destination that you are thinking about.
Save 10% on Select Hotels. Use Coupon Code JUL1410NA – Book by 7/27/2014, Travel by 9/28/2014
Save 5% on Select Hotels with Coupon Code 14JLY5OFFUS – Book by 7/13/14, Travel By 9/11/14
Save 5% on Select Hotels with Coupon Code JUL145NAUS – Book by 7/6/14, Travel By 9/5/14
Save $50 on $300+ at Select Hotels with the Coupon Code FIREWORKS – Book by 7/4/14, Travel By 12/31/14
Save 5% on Select Hotels This Summer with Coupon Code 14JUN5OFF – Book by 6/8/14, Travel By 8/31/14
Save $50 on $300+ Bookings with Coupon Code MOREMONEY – Book by 6/1/14. Travel by 11/19/14
Save $50 on $300+ Bookings with Coupon Code 14MAY50OFF300US – Book by 5/18/14
Or $20 on $200+ with Coupon Code 14MAY20OFF200US – Book by 5/18/14
Save 5% on with Coupon Code MARCHDEALS5 for Travels Until 7/1 – Book by 3/31/2014
Save 10% with Coupon Code MARCHFUN10 – Book by 3/9/14, travel by 7/1/14
Save $50 Off $300+ with the Coupon Code COUPON – Book by 3/7/14, Travel by 8/27/14
Take $10 Off $100+ with Promo Code FEBOFF10 – Book by 2/23/14, Travel by 7/1/14
Take $20 Off $200 or More with Coupon Code FEBOFF20 – Book by 2/16/2014, Travel by 7/14/2014
Save 10% Off with Coupon Code 10INJAN14 – Book by 1/28/2014
Save 10% Off with Coupon Code DECEMBERDEALS – Book by 1/12/2014
Take $25 Off Your Next Booking of $200 or More for Travels in 2013 with Coupon Code 25OFFNOVEMBER – Expire 11/25/2013
Take 10% Off Hotels with Travels Until 12/31. Use Coupon Code OCTOBER10OFF – Expire 10/14/2013
Save an Extra 9% with Promo Code SUMMERFUN9 – Book by 9/8, Travel by 11/30
Take an Extra 12% Off with Promo Code 12FOR12 – Book by 9/1, Travel by 9/23
Get 10% Off at the 48 Hour Sale. Use Coupon Code 48HOUR10 – Expire 7/24/2013
Save 10% on Hotels with Coupon Code JULYHOTELS10 – Book by 7/22, Travel by 10/30
Take 13% Off at Hotels.com with Coupon Code SUMMER13 – Book by 7/4, Travel by 10/4
Save 10% on Hotel Bookings with Coupon Code HOTELDEALS13 – Book by 5/6/13, Travel by 9/30/13
Another 10% Off Coupon. Enter Code: COUPONSHOEBOX10
Bonus Coupon Tip:
Click here to find out how to set up Google Alerts to automatically alert you whenever there is a new coupon code available for a specific company
.