Golfsmith sends out promotions via promo codes all the time (Actually, I don't remember when it was last when they didn't have any coupon codes available). On top of the numerous sales that they do throughout the year, every year, they also gives you a ton of ways to save by giving out promotional codes in many different channels. We will try to update this page continually with the latest deals along with the any discounts so check back often if you don't see what you like right now.
Golfsmith Coupons Details
Save 15% off your order. Type in promo code GT7G3FTS
More Notes on Golfsmith's Promotions
For some reason, the Golfsmith stores in my area doesn't have the foot traffic that their competition has, which is a shame because they routinely will beat their competitors prices because they always send out coupons and promo codes, which you can use for a discount. What I noticed is that ever since the financial crisis of 2008, Golfsmith have been much more aggressive with the use of promotions via promotion codes and the deals pretty much work all year round, with some better discounts during certain holidays such as President's Day or Black Friday.
From what I have seen, 20% is pretty much the biggest discount that you will get from these promotions, so if you are holding out for maximum savings, pounce as soon as you see 20% off your order. Another word of caution is to be careful with what you can and cannot get with these promo codes. Golf manufacturers are very careful with their pricing structure and many brands will limit the use of store specific coupons on their products. What this means is that even if Golfsmith sends you a coupon code that lets you, say, get 20% off store wide, you still can't get the discount on certain products from certain manufacturers. A classic example are the Titleist Pro V1s. Unless the discount is specifically mentioned on the golf ball, you can't use any generic discount code to get a better price on them, so when you are looking for the right discount, be careful with this because you will be very frustrated if you waited for months just to find out that a discount can't be applied.
How to Apply the Golfsmith Promotion Codes that You See Here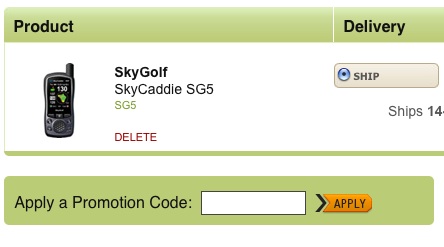 Golfsmith makes using their promo codes easy, since it's right there on the checkout page. Once you add what you need in the shopping cart, you will see something similar to the picture above at the checkout screen (the actual promotion code box is on the left as of writing). Just enter the promo code you have in there, click apply and you are done. Make sure you see the price change right away or else you either entered the wrong code or the promotion doesn't apply for some reason. (This can happen because some manufacturers have strict pricing guidelines and they don't allow store specific promotions.)
Click Here to Go To Golfsmith.com
Bonus Coupon Tip:
Click here to find out how to set up Google Alerts to automatically alert you whenever there is a new coupon code available for a specific company
.