This is a sponsored post written by me on behalf of Chase Mortgage Banking. All opinions are 100% mine.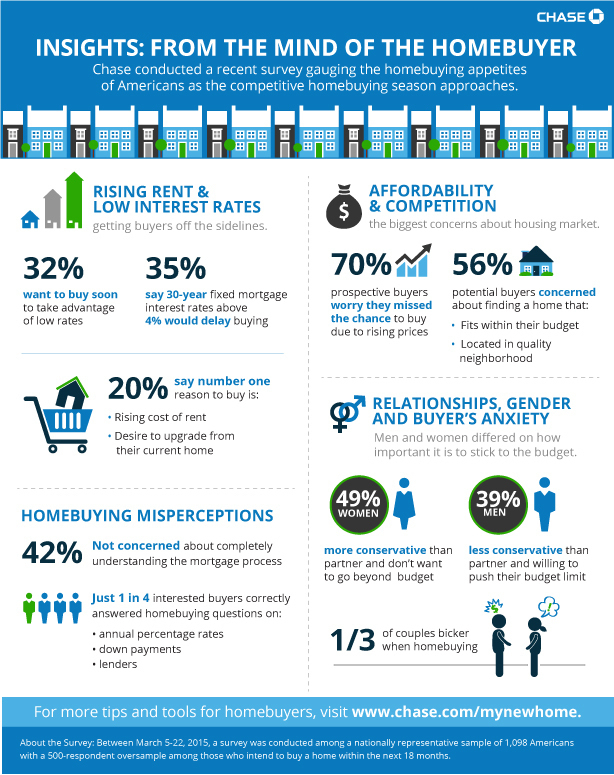 Is it just me, or are there more people thinking about owning a home these days? Chase Mortgage Banking conducted a nationwide survey, and found that 3 in 10 Americans are planning to buy a home in the next 18 months. The number initially seemed high to me, but then again, last weekend for us was filled with house buying related activities. Our family attended a house warming party for one of our friends, and we toured several open houses with another family the next day who are looking to move into our area.
I bet both families were one of those 32 percent of homebuyers who wanted to take advantage of the low mortgage rates. I'm glad to hear that people (43% in fact) felt that getting a mortgage loan is easier now compared to just 12 months ago. This will entice more people to refinance, which is like getting a free raise if done right.
One particular point I find interesting in the survey is that 35 percent of the respondents say rates rising above four percent would delay their decision to buy. These are the smart cookies in my opinion. On the surface, the higher payments would price them out, but higher payments mean pressure on house prices, which should bring the total purchase cost down. Of course, renters will have to weigh the price of renting with waiting, since rising rental costs are becoming more and more of a deciding factor. But for current homeowners, waiting isn't so bad since as much as 20 percent admitted that their desire to upgrade from their current house is their number one reason to buy.
There are actually quite a few other interesting facts presented, so check out the infographic when you get a chance!
While the homebuying process can feel overwhelming, Chase Mortgage Banking provides a bunch of tools for potential homebuyers including a mortgage calculator at Chase Mortgage Banking, as well as the My New Home YouTube channel with tips and other expert advice on the homebuying process.
Disclosure: I'm writing a post specifically to highlight Chase Mortgage Banking. I'm compensated for this post, but the opinions in the article are all mine.