OptionsXpress Promotional Code, OptionsXpress Promotion Updated
OptionsXpress promotional code became available right when the company first started promoting their stock broker options to the public. The optionsXpress promo code was very popular and everyone was taking advantage of it, generating many new accounts for the company. This page is setup to be constantly updated with the latest OptionsXpress promo codes or any promotions from the company so keep checking back to see if there are any new ones as they continue to pop up from time to time.
OptionsXpress Promotional Code Details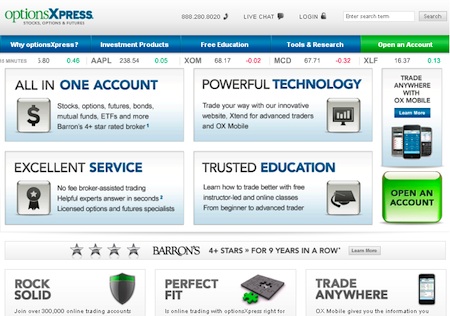 Click Here To OptionsXpress.com
How to Claim the OptionsXpress Promotional Code for $100
Currently, OptionsXpress is running a special with no promotional code necessary where they are going to reimburse you for up to $100 when you transfer your broker account to them. The official language is like this
optionsXpress will credit your account transfer fees up to $100 charged by another securities or futures broker when completing a full account transfer for $2,000 or more. Offer applies to new accounts first time funding only. To receive credit e-mail us or fax (312) 629-5256. Credit will be deposited to your account within 30 days of receipt of evidence of charge. We reserve the right at our sole discretion to modify or terminate this offer without prior notice.
Since opening an account with the broker is free and you will get reimbursed when you decide to fully switched over, there really isn't much risk other than a bit of time on your part. If you are contemplating on whether you should open an account, why not give it a try?
About OptionsXpress and the OptionsXpress Promotional Code
Traded in NASDAQ under symbol OXPS, optionsXpress Holdings, Inc. is a equity trading broker that is tailored for the retail investor. With all the free do it yourself tools that is available with this brokerage firm, investors can feel at ease that they are getting the latest news with the best tools available today. In fact, OptionsXpress have won the Best Online Broker award by Barron's in four out of the last five years. Below are some reasons why it won:
Award-winning trading platform – everything you need (news, research, quote, tools) are available at a touch of a button
Free investor education via webminars, videos and literature
Detailed and easy to use analytical tools for novice and expert investors
Responsive customer service personnel that are supportive
Click Here To Sign Up an Account at OptionsXpress.com
OptionsXpress Contact Info
311 W. Monroe Street
Suite 1000
Chicago, IL 60606
Tel: 312-630-3300 or 1-888-280-8020